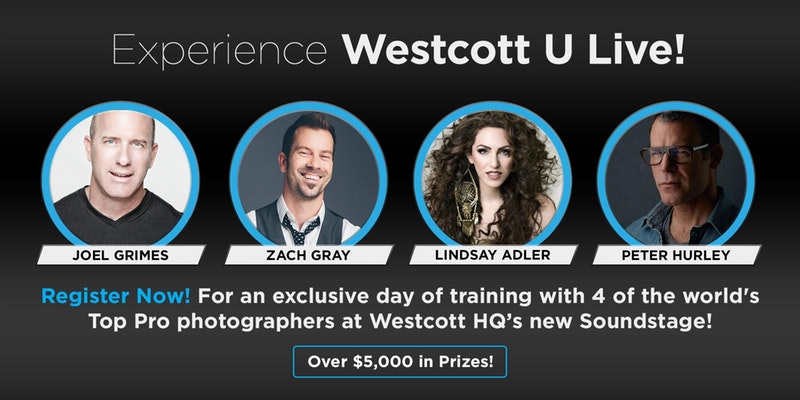 Westcott U Live
Experience top-notch education from the worlds best photographers during this exclusive event.
See Westcott University education live in-person as 4 of the industry's best presenters offer tips, tricks, and techniques in this full-day event. Hosted at Westcott's brand new studio in northwest Ohio, attendees will be engaged as Westcott Top Pros Lindsay Adler, Zach Gray, Joel Grimes, and Peter Hurley teach their impeccable styles of photography during live photo shoots and seminars.
Snacks, lunch, and beverages will be provided at this event. Attendees will also receive a Westcott goody bag, plus over $5000 in prizes will be handed out to lucky attendees throughout the day!
MEET THE SPEAKERS
Fashion photographer Lindsay Adler has risen to the top of her industry as both a photographer and educator.
Based in New York City, her fashion editorials have appeared in numerous fashion and photography publications including Marie Claire, InStyle, Elle, Rangefinder, Professional Photographer and dozens more. As a photographic educator and having been named one of the top 10 best fashion photographers in the world, she is one of the most sought after speakers internationally. Lindsay enjoys teaching on the industry's largest platforms and most prestigious events. She has worked with some of the top brands in the photographic and related industries such as Canon and Adobe. Her client list consists of Grey, Edelman, Microsoft, Saatchi & Saatchi and more. A clean, bold, and graphic style has become the hallmark of her work, whether shooting advertising campaigns, designer look books, jewelry, hair campaigns, fashion editorials, or professional athletes. Lindsay is renowned for her creativity and collaborating with designers and stylists in order to create fresh looks.
Lindsay's energy and enthusiastic teaching style showcase her excitement to share her passion and knowledge with others, whether it is worldwide through prestigious platforms such as CreativeLive, KelbyOne, and the industry's largest conferences, or through her blog, DVD videos, online tutorials or her five books.
About Linday's Seminar Good to Great: What separates the good photographers from the GREAT photographers? Technique and gear may certainly play a role in helping a photographer to express their vision, but that is seldom the most important element that distinguishes them. Photographer Lindsay Adler will explain how concept and personal style is what helps differentiate you and move your work to the next level. What are you saying with your images, and how do you use lighting, lens choice, and other tools of the visual language to communicate this message! Lindsay will talk about finding your own style, expressing a concept, and her favorite approaches for creating award-winning imagery.
Zach Gray is one half of the photography and business coaching team, Zach & Jody.
Known for his off-camera lighting and business & marketing savvy, he and his wife have become international speakers on business and shooting and have personally instructed over 1,200 photographers at their IN-CAMERA workshops. They are members of the exclusive SanDisk Extreme Team and have been featured speakers on creativeLIVE, Photo-Vision, WPPI, PPA, London's SWPP, Toronto's Exposure show, and MyWed Conference in Moscow. Their work has been published in leading publications including People, Rangefinder and Southern Weddings. Today, Zach & Jody's business is fully dedicated to empowering other photographers to build their own successful brands. In 2016 they launched a software, ShootFlow, which provides photographers a proven workflow to succeed in business.
Zach and Jody live in Franklin, TN with their son, Jaxon, and daughter, London.
About Zach's Seminar 3 Simple Steps to Off-Camera Flash: At this jam-packed event, Zach will be teaching his signature flash style of shooting with a live demo. You will walk away learning the exact system that he uses to take amazing flash photos with ease!
Driven by the creative process, Joel Grimesviews himself as an illusionist, creating portraits larger than life.
Joel has been selected as one of Canon's exclusive Explorer Of Light photographers. He has also been selected by Adobe as one of their Photoshop Feature Artists. For over 30 years Joel has worked for many of the top advertising agencies and corporations across the globe for clients such as AARP, AES, Abbott Labs, Archer Daniels Midland, Arizona Office of Tourism, AT&T, Canon, Colorado Rockies, Denver Broncos, Comcast, Febreze, Goldman Sachs, Hewlett Packard, Hyatt, Kodak, Local Motors, Mary Kay, Phillips 66, Philip Morris, Procter & Gamble, Pfizer, Century Link, Red Bull, Red Robin, Sony, Sturm Ruger & Co, United Global, USA Boxing, Visa, Volvo, and Xcel Energy. Over the years his assignments have taken him to every state across the USA and fifty countries around the globe.
About Joel's Seminar Master the Light: How light strikes the face is paramount. Do you want to compete with the top guns in the industry? You have to master the light. How would you like to know lighting so well that there is not a lighting technique or look on the planet that you could not duplicate? Or better yet, rock the world with your signature look? It's not as difficult as you think. Learn to Master the Light.
Peter Hurley is an expert in human facial expression and uses his specialized techniques to create stunning portraits and headshots for his clientele.
He shoots out of his Chelsea studio when he isn't traveling the world teaching his craft. He is the founder of the Headshot Crew, the largest group of headshot specialists in the world with over 13,000 members. Peter authored his first book "The Headshot" which has been considered the definitive guide to headshot photography and a #1 best seller in photography on Amazon. He has spoken on the subject of human behavior in front of the camera for TEDx, Google, Apple, Microsoft, Adobe and GoDaddy to name a few. Peter is also a Canon Explorer of Light and travels the world teaching his signature photography workshops.
About Peter's Seminar SHABANG!: Every portrait photographer knows the feeling – the scene is set, the lighting is perfect – and the moment you look through your viewfinder your subject looks like the life just got sucked right out of them. Human beings tend to behave in strange and unusual ways when placed in front of the camera and our job as portrait photographers becomes not only to technically capture a quality image, but to coach our subjects toward what Peter considers that elusive SHABANG'in shot!
No one is better at this than Peter Hurley – in fact, he is the master at engaging clients, creating an atmosphere that pulls out their personality and infuses it directly into the image, his constant goal is to take someone with a bland look on their face, and turning it into something captivating.
In this lecture, Peter will discuss his Hurley Headshot System and demonstrate how to use his custom Peter Hurley Flex Kit. Learn how to move your subject toward that moment that Peter likes to call a SHABANG!; the instant when adrenalin, emotion, and drama all come together allowing you to capture an image that will make the artist inside you stop and say, "wow!".
Explore the Westcott Soundstage
The Westcott Soundstage is located at the Westcott World Headquarters in historic Maumee, Ohio. Built in mid-2017, this unique space hosts a variety of one-of-a-kind events and productions.
Traveling guests can take advantage of discounted room rates at the newly renovated Hampton Inn located across the street from Westcott HQ with code "FJW" by calling 419-893-1004.
A variety of additional hotels are also available within the area, including the modern Renaissance Toledo Downtown. Beautiful downtown Toledo is an easy 10-minute drive from Westcott HQ and offers a variety of activities, restaurants, and nightlife.